Thermo Transfer Art!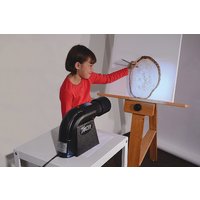 Thermo Transfer Art!
Shopping List
Items You must have
Iron
Your own Art or choose from our Downloadable Images
Using the Projector, project the image on the wall. Sudents can then trace from the image or free hand the chosen image on to their paper with the Thermotransfer Pencil. Once your student is satisified with their are it can be transfered with an iron onto to your chosen cloth media. Heat your iron to high heat no steam. Place the image face down on the cloth media and run the iron over the back of the image 3 to 4 times allow to cool for a few seconds before touching the paper. The image can be reused up to 3 times.