Pre-ground with resin film on both sides. No additional grounds required - ideal introduction to metal plate etching. Use only ferric chloride as the etching mordant. Simply remove the resin film by gently scratching your image to expose the aluminium plate below.
Directions:
1. Make sketches by drawing lines directly on the plate or put a carbon paper on the plate and trace a pattern or design to be made on the plate over the carbon paper.
2. Scratch along the lines drawn with etching needle very lightly so that only the surface of the plate show. Heavy lines in the finished print are obtained by prolonging the time of acid bath, not by scratching the line deeply on the plate.
3. Prepare beforehand in an acid-resisting tray appropriate amount of acid liquid by diluting the Ferric Chloride with proper amount of water in accordance with the temperature.
This list is guidance of water amount to be mixed with the acid. Remember to add the Ferric Chloride to the water not the other way around.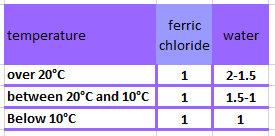 The Ferric Chloride solution which is very light acid and quite harmless to human skin. The acid liquid can be used repeatedly if its acidity is kept at the proper level. This can be achieved by adding Ferric Chloride as often as necessary. Remember to store in a secure acid resistant container.
4. Dip the plate in the acid bath after scratching of the plate is finished. As the result of corrosion of the plate by the acid foam will come up in the liquid and within 5 to 7 minutes, sufficient etching will be done. For better corrosion result. Keep stirring the liquid while the plate is placed in the bath to remove bubbles along the etched lines and to enhance corrosion.
5. After completing etching, brush off any dust and metal particles remaining in the grooves on the plate and rinse it well wtih water.
(ALUMP3)
| | |
| --- | --- |
| SKU | ALUMP3 |
| Brand | S & S Wholesale |
| Shipping Height | 111.000m |
Be The First To Review This Product!
Help other School Art Supplies users shop smarter by writing reviews for products you have purchased.
---
Others Also Bought
---
More From This Category