Lesson Plans


A range of Lesson Plans are available to download. These include a full description and details of the required supplies - just like a recipe.
We're working on more plans and will upload these from time to time. Visit this page again... and thanks for your support.
(NB: Prices listed in these lesson plans are ex GST, and are not updated. Find up to date pricing and codes in our webstore.)
Batik Painting
Batik Painting: Fabric art using glue and dye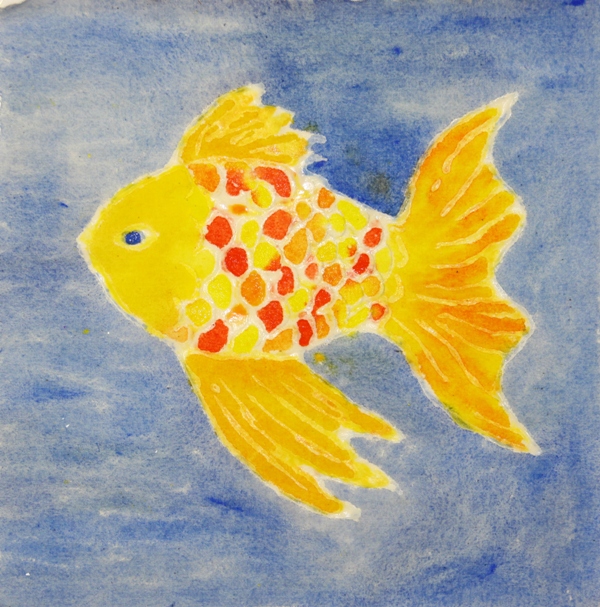 Clay Sculpture
Modelling Clay Creatures
Making creatures out of modelling clay is a fun way to introduce the foundations of pinch pots, coils, and slabs for example, as well as allow children free range of their imagination. Start off with a preliminary drawing session and help fuel their imagination by suggesting those who are stuck, to take body parts from 2-3 different animals to create a new animal –creature. Students have to think critically about the weight of the clay and the order and positioning of creature parts so the animal keeps its shape while drying. Challenge students to create texture in the surface of the clay using the clay tools and other sharp or embossing instruments.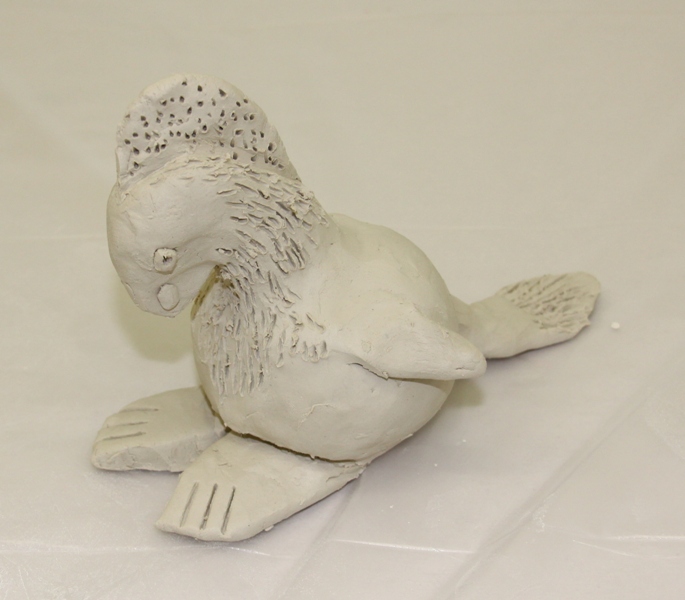 ---
Collagraph printmaking
2D Collage prints
Students learn how to take making a 2D collage further by making a print. Students will form an understanding of texture and how to interpret texture into an artwork; problem solve what textures will be or have not been printed well, therefore reflecting on their experimentation; awareness of composition; gain an understanding of process through completing this artwork in stages; develop team work skills and sharing; and are exposed a variety of specific arts language.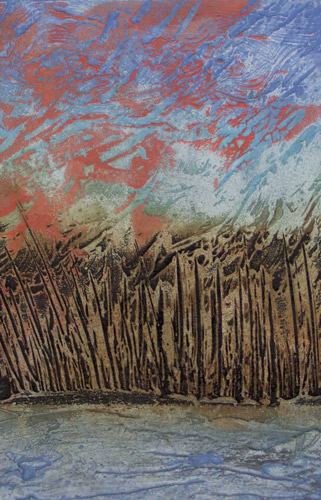 ---
Frottage Drawing
Collecting leaves, gluing them between papers and revealing the textures with crayon is a great activity to introduce the ecosystem, sustainability and environmental perspectives to young students. This project assists the development of gross and fine motor skills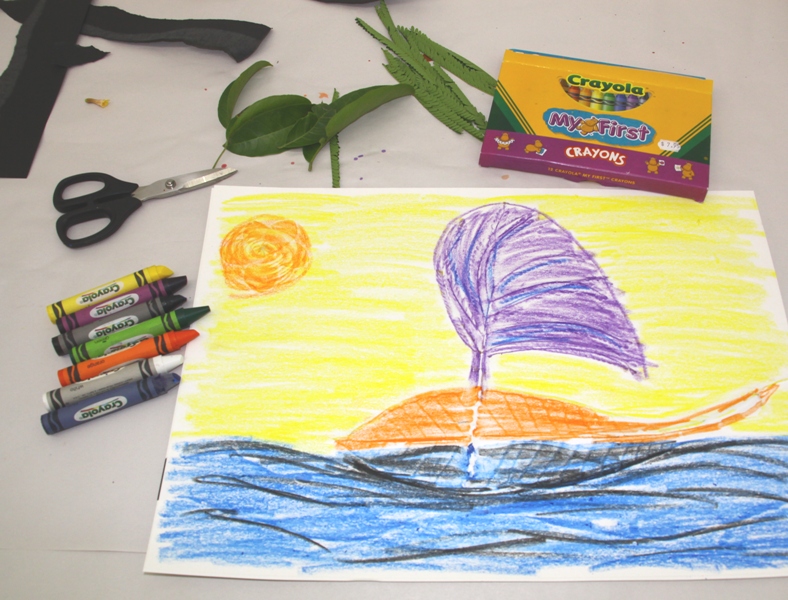 ---
Mask Decorating A
Cultural and Tribal Masks
Through historical and social contexts of cultural studies, students respond to learning about cultural and/or tribual group by using mask decoration as a learning tool through art. Students employ a range of critical thinking skills to create an aesthetically pleasing decorative mask; symmetry and asymmetry, colour, texture, line. A fantastic project to incorporate Asian or Indigenous perspectives in Australian Classrooms!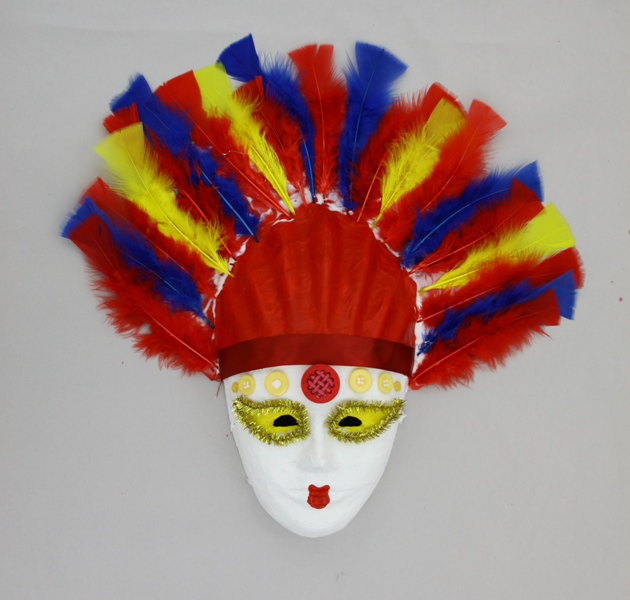 ---
Out of the box sculpture
Students work individually on creating a sculpture out of craft materials and other found/recyclable objects. They will problem solve the best process of attaching materials together to remain secure. Inadvertently they may communicate with other students to help them problem solve their artwork resulting in teamwork. This lesson can be used in conjunction with Numeracy aspects when learning about weight and stability of real-life objects.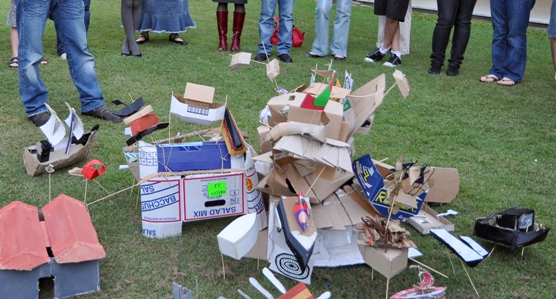 ---
Photo Image Transfer
Students will explore medium and technique experimentation using a gel medium to transfer photo images onto a surface. Through this process students gain an understanding of mirror imaging, transparency, tone and shade and positive and negative space.
A versatile art technique, photo image transfers can be created on paper, canvas and fabric. Students can incorporate transfers into collage and mixed media.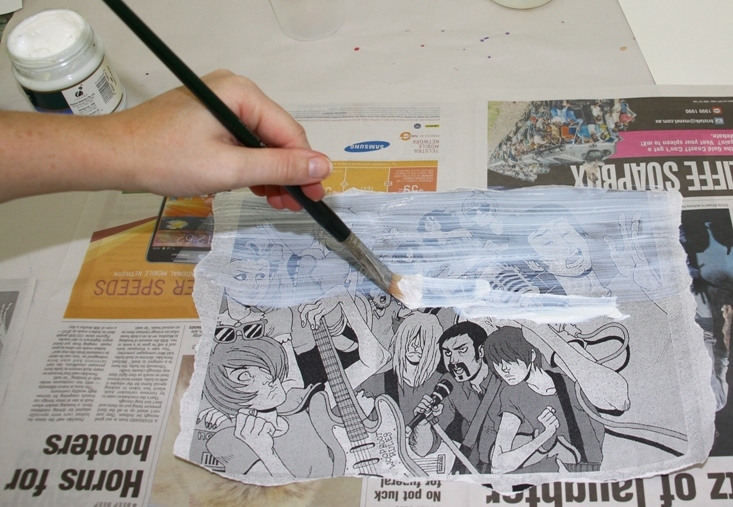 ---
Pixel Art
Paper Mosaics
Students incorporate basic mathematical skills of measurement and pattern making by creating 'pixel' art using the method of paper mosaics. Students are made aware of optical blending to create form and dimension; therefore students will employ problem solving skills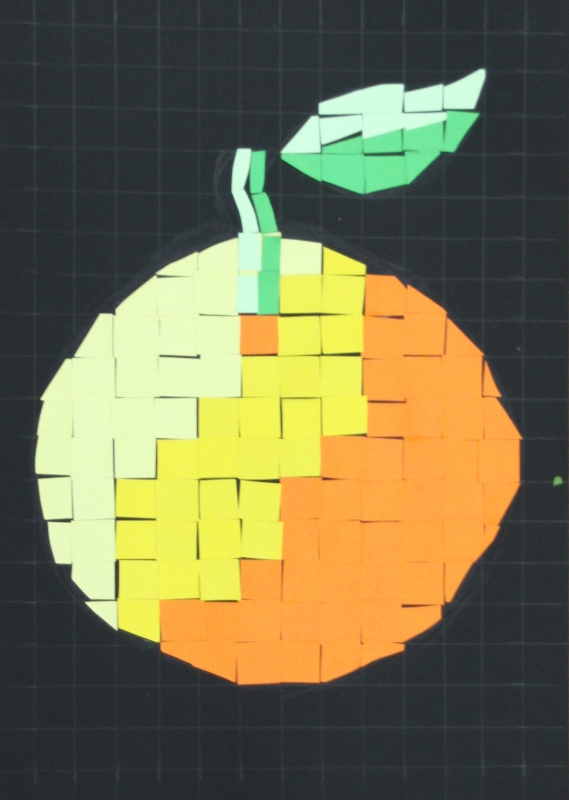 ---
Resist Painting
Resist Painting Using Crayons and Watercolours
Teachers may use this simple activity to teach fundamental knowledge such as shapes, opposites, size, and colour. For example, students may draw basic shapes and use complementary colours; draw the shape with crayon and wash over the shape with watercolour, as an exercise in learning about opposite colours. Or draw with crayons facial expressions and wash over colours representing and symbolic of the mood.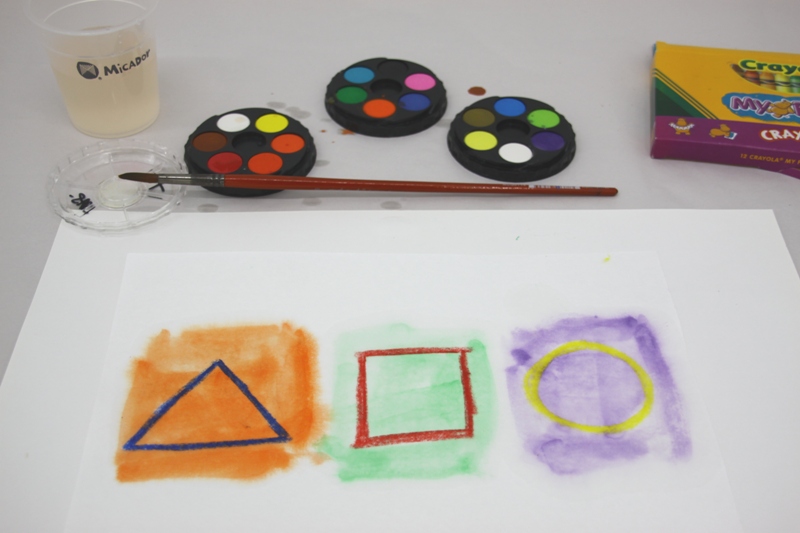 ---
Stencil Art
Limited use Kirigami stencil
Students use the process of Kirigami (cut paper) to create stencils. This method incorporates numeracy knowledge; the teacher will use numeracy language such as fractions e.g. "fold your paper in half, and now quarters"; and the process of cutting into folded paper creates pattern and a symmetrical design. Teachers may wish to use this project parallel to teaching LOTE: Japanese studies or as a cross-curriculum perspective in Asian studies. Visual Arts knowledge and skill identifies positive and negative space, mirror imaging, design and pattern. Get students to create a mixed media layered surface as a supporting activity for the Kirigami print. This technique is an excellent way to introduce a simple yet affordable activity in printmaking to lower grades.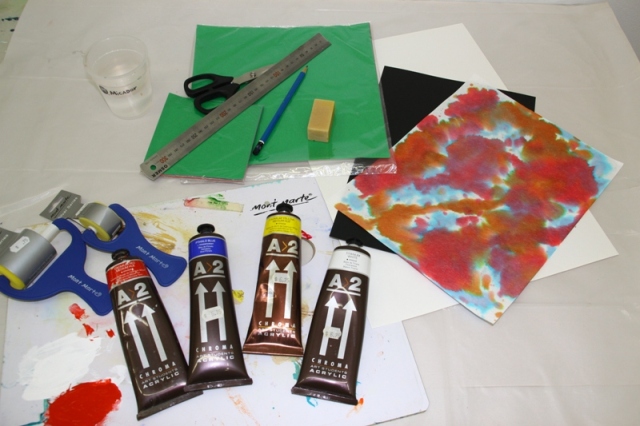 ---
Wearable Art
Project Runway: Scrap heap challenge
nspired from the T.V. series, Project Runway, this idea is an excellent way to engage students in building relationships through teamwork and developing interpersonal skills. The idea is that each student gets a turn at being a 'leader' role. Students will collaborate to problem solve and work to deadlines. This project lends itself to a sustainable and environmental focus as students learn how to recycle things to recreate functional objects or create a work of art.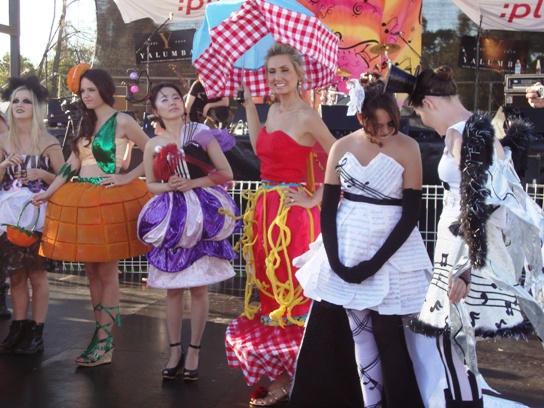 ---
Window Sticker
Stained Glass Art
Coloured PVA Glue Window Sticker Design
Students will create stained glass inspired art by using the method of making a window sticker from PVA glue. PVA glue dries into a clean film and adheres to windows in a non damaging way. Add colour to the glue so when it dries, the colour retains its transparency appearing like a stained glass window design.